Save Money on Fuel & Speeding Tickets by fitting a VW Cruise Control System.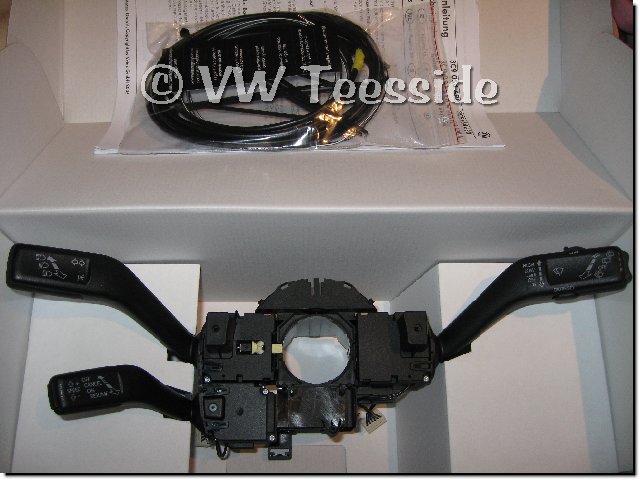 Update from supplied VW Instructions;
Check Steering Wheel Module Connector T18 Pin16 for the ECU wire, if not present use the one supplied.
Passat 2.0 TDi ECU Wiring is also different on some models to as stated in the VW Instructions, as Pin20 already has a wire in place. This is corrected on the instructions supplied upon purchase of the kit from us.
We've also noted that the 3C0953549AB Steering controller is not compatible with Cruise.
Suitable for the following vehicles;
VW Passat 3C/B6 2005 upto build date 11/2009
(upto chassis number 3C*9)
What's in the Box?
Combined Indicator & Wiper Stalks with Cruise Control [with or without Trip option]
The Trip Switch Option is for the Multi- Function Fuel Computer on the Wiper Stalk as shown above
ECU Wire
Lower Trim Panel in Black
Instruction Booklet for easy DIY Fitting
Instructions Available in English, French, Italian, Czech, Dutch. Swedish & Spanish.
Kit 1: Saloon/CC & No Trip [or with MFSW]
Kit 2: Saloon/CC & with Trip [No MFSW]
Kit 3: Estate & No Trip [or with MFSW]
Kit 4: Estate & with Trip [No MFSW]
Price:
Kit 1 & 2; £179.96 each
Kit 3 & 4; £179.96 each

[Limited Stock]
Postage/Shipping:
UK: Inclusive
Within Europe: £20.00
Rest of the World: £28.00
The ECU & Steering Controller will need Coding.
If you wish to travel to our Workshop in Saltburn [TS12], we now provide a Fitting & Coding service, please contact us for details.
Fitting & Coding i sapprox £120.00 extra for the above kit.
Paypal
UK Shipping
European & Worldwide Shipping
Passat ECU Wire [Included in the above kits]