Save Money on Fuel & Speeding Tickets by fitting a Audi Cruise Control System.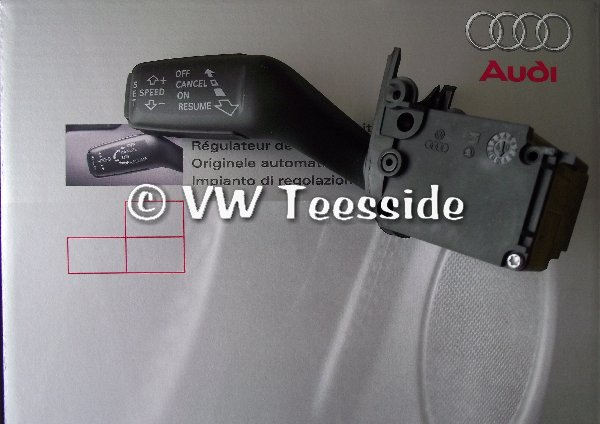 Please note: On some model's the Steering controller modules (with Part Numbers: 8E0953549F, 8E0953549S) cannot accept the Cruise Control coding, if this is the case a new controller will be required, please contact us.
Please refer to the Ross Tech List of Steering Controllers
Some 2.0 TFSI and 3.2 FSE Engines require Long Coding;
Byte 06 Special Functions II
Bit 0 Cruise Control installed
Suitable for the following vehicles;
Audi
A4 (8E) inc RS4 2001-2008
A4 Cabriolet (8H) 2003 - 2009
A6 (4F) inc RS6 2005 - 2009
Please select Kit for either a A4 or A6 as the lower trim is different
A4 Lower Trim Panel available in Soul Black, Swing Grey, Jive Beige, Agate Grey, Kamut Beige, Maritime Blue or Indigo
A6 Lower Trim Panel available in Soul Black, Agate Grey, Kamut Beige or Indigo
What's in the Box?
Cruise Control Stalk
Lower Trim Panel in Soul Black
[Please notify us if a different colour is required]
ECU wire for A6's
Instruction Booklet for easy DIY Fitting
Price: £104.95 each
Shpping:
UK; Free
Europe; £12.00
Worldwide; £18.00
If you wish to travel to our Workshop in Saltburn [TS12], we now provide a Fitting & Coding service, please contact us for details.
Fitting & Coding Prices start from £60.00 for the above kit & £100 for a A6 that requires the extra wire..
Paypal