Save Money on Fuel & Speeding Tickets by fitting a VW Cruise Control System.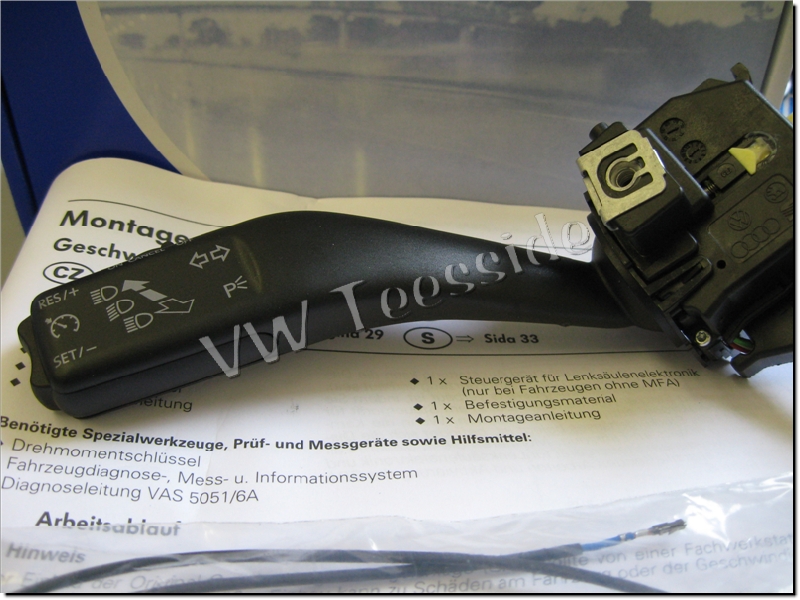 Genuine VW Retrofit Cruise Control Kit.
[Latest Version Cruise Stalk Supplied]
1K0953513G 9B9 - 1K0 953 513 G 9B9 - 1K0953513G9B9
Please note: Vehicles built after the dates shown below cannot use this stalk as they have combined Indicator & Wiper Stalk Unit.
Please email us your Reg or VIN if your unsure of the build date & some newer models now have kits.
Lowline Steering Controllers will require replacing.
[1K0953549BC with 638/636 & Some versions of Highline Modules ending in AQ or BD are problematic]
Please request details on the suitable replacement Highline controller.
Please refer to the Ross Tech List of Steering Controllers
Suitable for the following vehicles;
VW
MK5/6 Golf upto July 2010
Golf Plus upto May 2010
Eos upto November 2009
Caddy upto August 2010
Jetta upto October 2010
Touran upto May 2010
Tiguan upto May 2010
Scirocco upto November 2009
SEAT
MK2 Leon upto May 2010
MK3 Toledo upto May 2009
Altea upto May 2010
Skoda
MK2 Octavia upto May 2010
MK2 Superb upto September 2009
Yeti upto May 2010
What's in the Box?
Genuine VW Indicator / Cruise Control Stalk, ECU Wire & Instruction Booklet for easy DIY Fitting
Instructions Available in English, French, Italian, Czech, Dutch. Swedish & Spanish.
Price: £105.67 each
Shpping Cost:
UK Standard 48hr; Free
UK Next Day; £5
Europe; £10
Rest of the World; £12
The ECU & Steering Controller will need Coding.
If you wish to travel to our Workshop in Saltburn [TS12], we now provide a Fitting & Coding service, please contact us for details.
Fitting & Coding Prices start from £60.00 for the above kit