Has your Golf, Bora, Beetle, Leon or Toledo Window Dropped?
This kit will fix all front window regulator faults:
Your Electric Window Motor sounds but the glass doesnt move, glass dropped to one side, or dropped into the door? (This is caused by the plastic clamps breaking)
Noisy, grinding operation or jamming when trying to clsoe the window? (This is caused by a snapped, twisted, corroded or fraying cables or spool)
We have the new Polymide 6.6 (POM66) window clips which have replaced the aluminium ones previously supplied to replace the poorly designed old white plastic ones, which become brittle and break after a few years. Usually it is only these clips that are required when the window glass falls down into the door, but VW do not sell them separately, only as part of this kit.
The kit also contains new cables including the diagonal cable and the pre-wound take-up spool, which only need be used if the existing wires are damaged.
Only the Genuine VW kits come with the newly VW designed, Polymide 6.6 retaining clips, now used in
Please Note: Kits are Handed, as sat in the Car
i.e. Right = UK Drivers Side (RHD)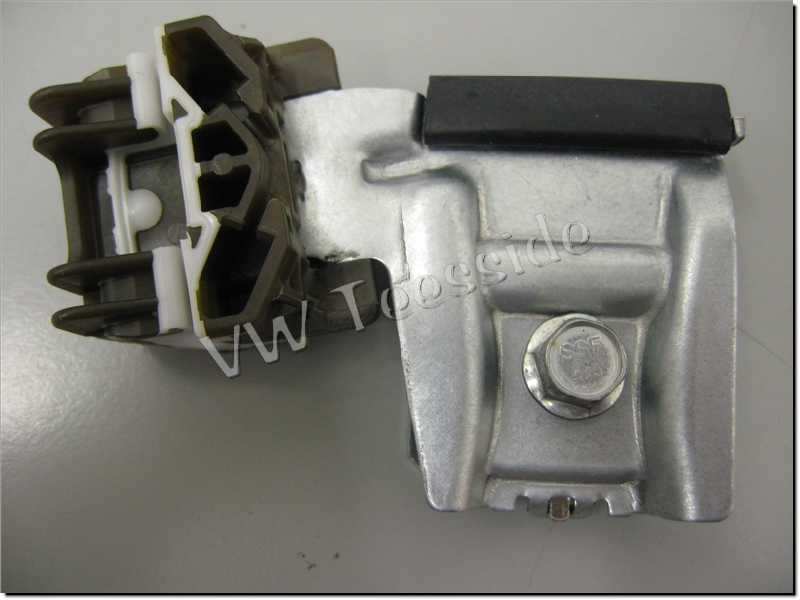 Be aware that complete regulators come with the original faulty designed plastic clips that caused the failure in the first place; they are also more expensive at over £100 & Beetle ones are over £200.
DIY fitting Guide:http://vwgolfr32.co.uk/windowregulator/