Cruise Control Install
MK4 Golf Platform
Including VW Beetle / Bora, Skoda Octavia, Seat Leon / Toledo, Audi A3 & TT
Here follows below, a detailed 'how-to' for the retro-fitting of Cruise Control into the VW Golf Mark 4 (MK IV) TDi.
Petrol Engines require the addition of some extra wiring which is missing between the bulkead connection socket and the ECU.
TDi's & Engines Codes [APF, AQN, AQP, AUE, AVU, BDE, BEH, BFH, BML] are Pre-wired from the Bulkhead Connectore upto the ECU & do not require this loom

The wiring schematic showing the loom is here: Golf 1.8T Wiring Guide

These wires can be sourced from VW Direct on eBay ;

1.8T, 1.6 16v & 2.0 Petrol Engine Loom on eBay Item 370782615559

1.4 16v Loom on eBay Item 360658757506
The information listed on this website is given in good faith, it is supplied 'as-is'. No responsibility is accepted for any damage arising from following this guide.
TOOLS:
| | |
| --- | --- |
| | M12 Spline Drive (for the steering wheel bolt) |
| | 4mm Flat-Blade screwdriver (long reach) |
| | Philips screwdriver (medium point) |
| | Philips screwdriver (small point, long reach) |
| | Torx drivers: T15, T20, T25, T30 |
| | Torch |
| | Sockets: 10mm, 13mm |
| | Ring/open ended spanner: 10mm |
| | Laser 3932 Tool is the equivalent to VAS Tool 1978 Pin Removal Tool available for around £8-£10 on Amazon |
| | Silverline 702445 Wiper Arm Removal Tool is also useful, available as an add-on item for £3.50 on Amazon |
| | Sticky tape (electrical) |
| | Marker Pen |
Genuine VW Parts:
The Genuine VW Cruise Kits available on http://vwgolfr32.co.uk/shop/CCS-MK4-Golf.htm
| | |
| --- | --- |
| | Replacement Indicator Stalk Switch with cruise control |
| | |
| --- | --- |
| | Wiring loom/s for cruise control switch including the ECU Looms when selecting the 1.8T Kit |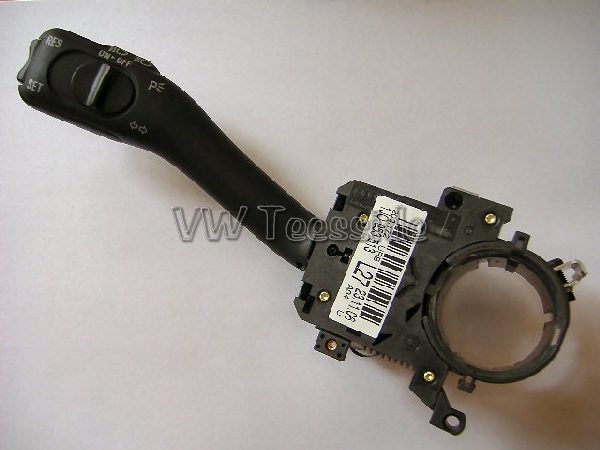 PROCEDURE:
| | |
| --- | --- |
| | First step is to do the internal switch swap - just in case you have to do the job over several days, and want to use the car between. |
CLICK HERE FOR THIS STEP: Cruise- Stalk
| | |
| --- | --- |
| | For the second step it is best to do the outside next. |
CLICK HERE FOR THIS STEP: Work- Outside
| | |
| --- | --- |
| | For the third step you could do this alongside the external works - I did. |
CLICK HERE FOR THIS STEP: Wiring- Inside